Appearance Settings
Disclaimer: This guide refers to using the Element Matrix clients, Element Web or Element Desktop apps
Accessing Appearance Settings
You can change your Matrix account settings by clicking your profile icon in the top left of the Element client. By default, this will be a colored circle with the first letter of your Matrix ID. From the presented drop-down menu, you'll be able to jump into specific settings straight away, or access All Settings. Clicking All Settings will take you first to General settings, click Appearance in the vertical navigation menu on the left to open Appearance settings.
Info: The below setting layout / order may change in subsequent client updates, however generally most settings will still perform the same function.
Appearance Settings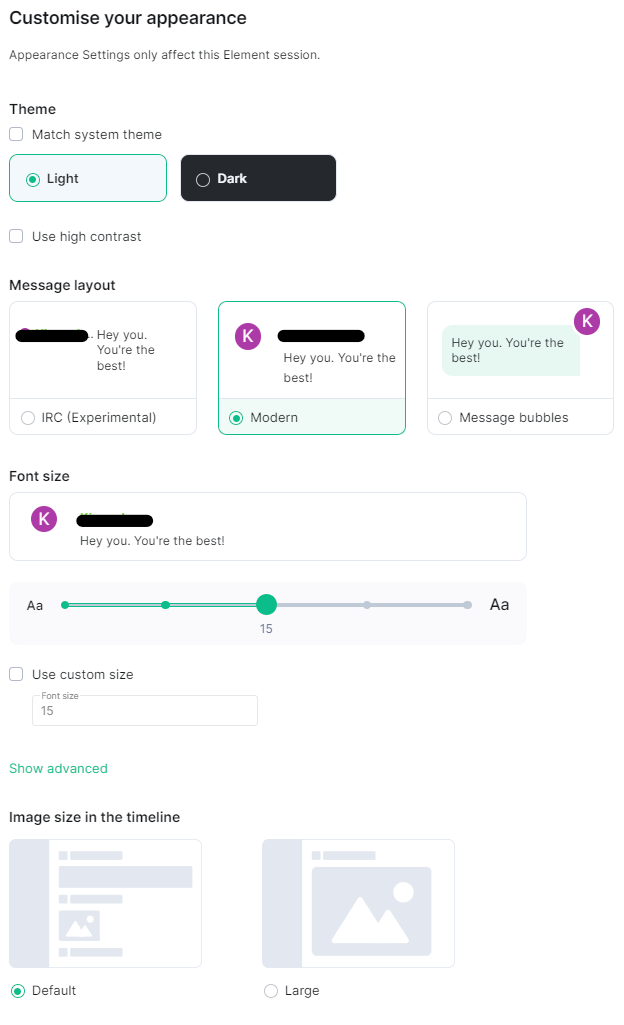 (https://ems-docs.element.io/uploads/images/gallery/2023-03/image-1678368867514.png)
Appearance settings allows you to customize the look and feel of your client, all settings provide visual representation of the changes so you can confirm your preferred style. Options include Theme, Message Layout, Font Size and Image size in the timeline.