Chatterbox
Provide a quick and simple interface for end-users (potential customers, sales leads, support requests, etc.) to interact with your Matrix homeserver.
Setup
Set up an Element Cloud or Element Enterprise Cloud EMS host following Get Your Own EMS Server

Disable reCAPTCHA on https://ems-staging.element.dev/user/hosting#/hosts


Click the Integrations tab or this link. Select Chatterbox from the list of available Extensions


Set the configuration options as required for your use case and click Set Up Integration. See the Configuration options section below for more details


Wait for your host to finish reprovisioning
Configuration options
Operation mode
Join room
This will add all your Chatterbox users to one room.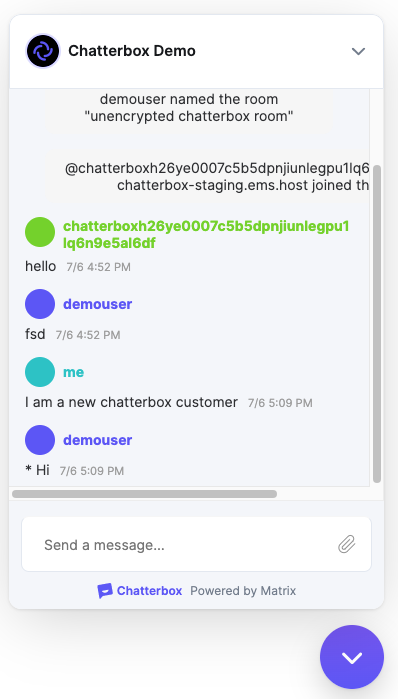 Create a public room on your EMS server with encryption off

Find the Internal room ID for the room. In Element Web/Desktop, click the room name at the top -> Settings -> Advanced -> copy the room ID (starts with !)
Note, that this mode also works with an encrypted room, but this is not recommended. Anyone can find and join the room, so anyone can read messages. You'll get none of the benefits of encryption. Encrypting messages in a public room will make receiving and sending messages slower.
Responder group
This creates a new Matrix room per Chatterbox user. This is the mode demoed in step 7 of the Setup section.
To set up:
Add at least one user from your EMS server to the Chatterbox config
Set the Responder selection method to either Round-robin or All
Select if you want the rooms to be end-to-end encrypted or not

Responder selection method
Round-robin - the system tries to load balance incoming users against the pool of responders. Only the selected responder will be invited to the new room.
All - this will invite all configured responders to the new room.